COSMETIC DENTISTRY BRENTWOOD
The effects of cosmetic dentistry can be truly life-changing!
GET THE SMILE YOU DESIRE AND DESERVE
Having a dull, damaged, or unsightly smile can make you self-conscious about your appearance and hesitant to smile. Enjoy a complimentary smile consultation from our Brentwood dentists and learn how you can gain the ability to smile without reservation — you can laugh fully, feel confident, and enjoy life to the fullest!
OUR COSMETIC DENTISTRY TREATMENTS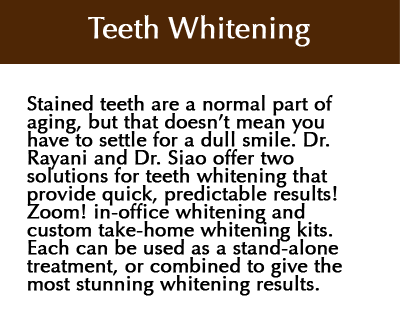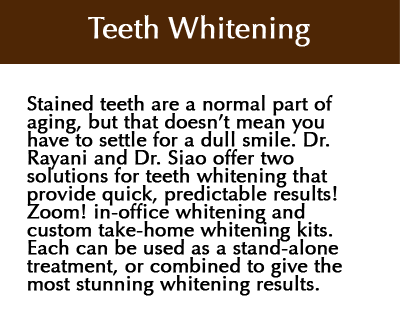 Dr. Rayani and Dr. Siao
LVI trained Cosmetic Dentists
The Cosmetic Dentistry team at Balfour Dental combine science and art to give our patients in Brentwood the smiles they've always desired. They use the latest techniques and modern technologies to provide excellent results.
Life-Changing Results
Many of our patients enjoy improvements in personal relationships, careers and quality of life as a result of their beautiful new smiles! Experience a life-changing smile transformation with the best in Brentwood, CA cosmetic dentistry by visiting Drs. Rayani and Siao.
WHAT ARE YOU WAITING FOR?
Have more questions?
Call us or click below to schedule a complimentary consultation
Want to see even more?
See what our patients and former skeptics have to say.